iSHearo
Single-cup head­phones for exhi­bi­tions
The iSHearo is a modern and versa­tile one-handed head­phone.
Both speech and music are repro­duced crystal clear.
The inSyn­ergie product impresses with its simple and modern design but is very chan­geable in its finish.
The design of the housing is in the form of dyed-through plastic (POM) to prevent the paint from chip­ping of.
Advan­tages
Mate­rial: solid-coloured plastic, stan­dard version: black*.
Cable with metallic protec­tive tube (cable length can be custo­mised)
Height: 70 mm; diameter: 53 — 73 mm
Inte­grated reed contact with poten­tial-free contact
32Ohm 0.5W loud­speaker
incl. 2.5m connec­tion cable 4x0.75qmm
incl. magnetic wall mount
optio­nally with voice dial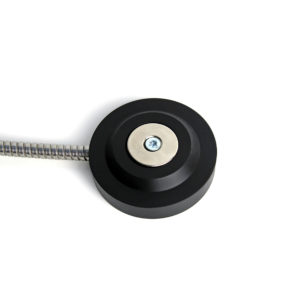 *Special designs in e.g. other colours on request and mate­rial avai­la­bi­lity.
Prices vary depen­ding on the individual case.
Example of a custo­mised alumi­nium model of this kind: